Affiliate Marketing in 2022: The Ultimate Beginners Guide
Would you like to earn passive income through affiliate marketing, but you aren't quite sure how to get started? Then you've come to the right place.
In this super comprehensive affiliate marketing beginners guide I'll explain in detail:
What affiliate marketing is and how it works
How to pick an affiliate program
How to decide on a niche for your website
How to write content and build an affiliate site which converts and brings in affiliate commissions
I'll also show examples of successful affiliate websites and tell you what you can learn from them.
And we'll be talking about a lot more.
Are you ready? Let's begin then.
Chapter 1: Affiliate marketing 101
First, let's have a look at what affiliate marketing is and how it works.
I'll also tell you what you need to become an affiliate marketer.
What is affiliate marketing?
Affiliate marketing refers to promoting a company's products or services in exchange for a commission. An affiliate marketer joins one or several affiliate programs, starts promoting products through a website, newsletter, or social media, and earns a commission whenever a sale is made.
This concept has been around for probably as long as humans have been engaged in commerce: you're introducing a buyer to a seller and in exchange receive a slice of the action.
Affiliate marketing is the perfect way to earn money without having to develop your own products and services. You also won't have to deal with product inventory or customer support.
All you got to do is identify a product or service you believe in, promote this to the right audience, and earn your commissions.
How does affiliate marketing work?
Before you can start earning money with affiliate marketing, you'll have to sign up for an affiliate program. I'll tell you more about this later.
Once approved, you'll get your own affiliate link and access to an affiliate dashboard. This dashboard shows how often your visitors have clicked on your affiliate links and how many sales you've generated. You can often also use this dashboard to make your own affiliate links which point to a specific page of the company's website you're promoting.
An affiliate link looks something like this:
Example affiliate link: yourwebsite.com/aff_c?offer_id=6&aff_id=36191]
You can add those affiliate links to your articles, social media posts or newsletters.
When a visitor clicks on such a link, a cookie gets placed in her browser. If this visitor ends up buying the product, the affiliate program knows it was you who referred the visitor and you'll get the commission. These cookies tend to stay valid between 1 and 30 days, but with certain affiliate programs they can last for months.
Keep in mind: you'll only get your commission if the visitor purchases the product through the same browser on the same device. If a visitor clicks on your affiliate link through her PC and purchases the product a week later through her phone, you're out of luck.
Besides this, it can happen that someone lands on your website first, clicks an affiliate link, browses to a different website, and clicks on an affiliate link there. Most affiliate programs follow the "last-cookie-counts" principle, which means that the other website will receive the commission.
If you think this is unfair, remember that this works the other way as well.
There are also affiliate programs which follow the "first-cookie-counts" principle, which works the other way around.
Affiliate programs tend to pay out commissions within 30 to 90 days (to account for possible product returns or money back requests).
Here is affiliate marketing explained in an infographic: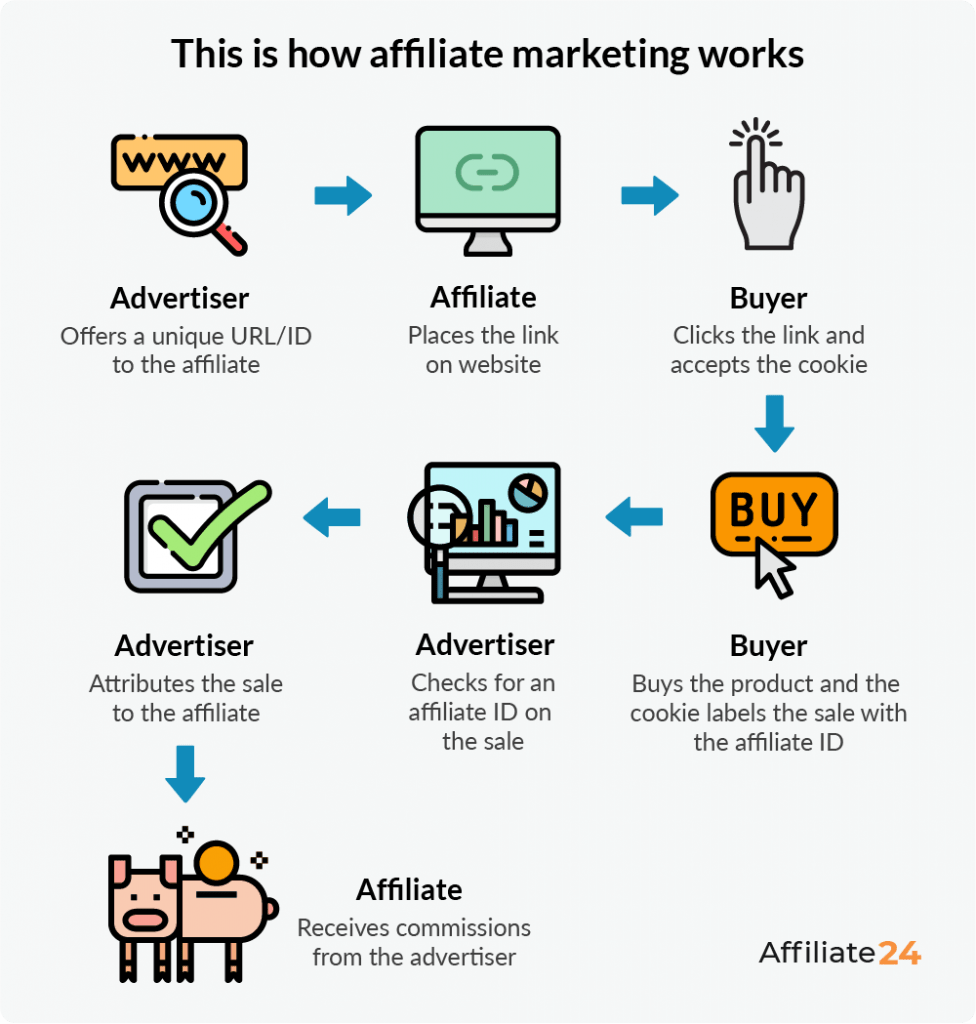 Affiliate program rules
Besides cookie rules and payment terms, affiliate programs often have quite a few conditions.
If you're like me and most people, your first instinct might be to skip the "fine print". Don't do this. It can cost you a lot of money if you're not fully aware about the terms and conditions of an affiliate program. I'm unfortunately telling you this from experience.
Let me give you the Amazon Affiliate Program as an example. Besides the fact that Amazon has drawn the collective ire of the affiliate community by lowering commissions year on year, they're also infamous for kicking people off their program for breaking one of their many rules. Without giving a warning in advance.
Here's a few of the things Amazon doesn't let you do:
Use their product images on your website (unless you use their API)
Using affiliate links in your emails
Shortening affiliate links
You probably wouldn't have guessed any of the rules above if you hadn't read their terms and conditions.
Luckily Amazon is an exception. Most affiliate programs aren't this strict. Having said that, it's a smart move to read the fine print of any affiliate program you'll be working with to prevent unpleasant surprises.
When can you become an affiliate marketer?
Most affiliate programs expect you've got a website up-and-running. This website often must meet certain requirements. For instance, they expect your site looks somewhat "finished" and match their products when it comes to your content.
Getting a website up and running is easy. Click here to scroll down to the section of this guide where I show you how.
Affiliate marketing can be a viable business model for pretty much any individual who's willing to put in the work. There is however an important rule of thumb you must understand to become a successful affiliate marketer:
Affiliate marketing is all about putting the right product in front of the right person at the right time.
Who are your readers? What are their pain points? Where in the buyer's cycle are they? How can you help them make a smarter purchasing decision than they could without your help?
Chapter 2: Affiliate programs
In this chapter I'm going to tell you what kind of affiliate programs there are. There tend to be vast differences between them when it comes to commission rates.
The good news is that you can sign up for as many affiliate programs as you like.
I'll also give you several examples for each type of affiliate program.
Big ecommerce shops
If you're new to affiliate marketing the affiliate programs from big ecommerce shops can be a great way to get your feet wet.
Although commission rates with these kinds of programs tend to be pretty low (between 1% and 10%), they offer several distinct advantages:
You'll get instant access to thousands of products you can promote. When it comes to your administration this is a lot more convenient than working with a multitude of separate affiliate programs.
Everyone knows the big ecommerce stores. This leads to excellent conversation rates. In most cases you'll earn your first affiliate commissions a lot quicker here than with other types of affiliate programs.
The commission applies to the entire shopping cart. Say your visitor clicks on an affiliate link and ends up buying a bunch of completely unrelated products, you'll get a commission over these products.
They offer automatic pay-outs. The big ecommerce shops automatically transfer your affiliate commissions at the end of the month. With many other affiliate programs, you'll have to request pay-outs manually.
Although these kind of affiliate programs are highly popular among beginners, some of the biggest affiliate sites use them well. For instance, Wirecutter mainly pushes Amazon deals.
Here are a few examples of massive (ecommerce) shops which have their own affiliate program:
Individual companies
Affiliate programs from individual companies often tend to offer much higher commissions than the affiliate programs from ecommerce shops. Up until 50% of the purchasing price, sometimes even more when there is a high customer lifetime value.
We're talking here about products and services which can cost hundreds of euros, so for an affiliate marketer this can really move the needle.
You'll find these kinds of programs often in one of the following niches:
Entrepreneurship, business, and marketing
Financial products (like credit cards) and investing
Dating, beauty, and health
Although these type of affiliate programs can be very lucrative, there is a catch. For starters, these types of products require much better content than your average ecommerce product.
For instance, if you're looking to effectively promote enterprise-grade software, you'll need a lot more know-how than when you're writing about your favorite keyboard. Aside from this, the competition around these products is much higher because there is so much money to be made.
Here are some examples of companies which have their own affiliate programs:
Affiliate networks
Affiliate networks are a middleman between website owners and entrepreneurs ("publishers") and companies ("advertisers").
Through one platform you'll get access to a ton of products from companies which don't have their own affiliate program and which you can't find on the big ecommerce websites.
Examples of these kind of networks are:
ShareASale
Awin
CJ Affiliate
These networks let you promote products from all types of small web shops, but also massive companies such as American Express, Ubisoft and Logitech.
The commissions you can earn through these networks tend to vary: usually they are between 5% and 50%.
Chapter 3: Picking a niche for your website
In this this chapter we'll look at how you should go about picking a niche for your affiliate site.
Although in theory you could just write about anything under the sun, affiliates which niche down tend perform much better.
Follow your interests
Although you don't need to have a burning passion for your site's niche, it is important to find it at least somewhat interesting.
For instance, if you're working on a site about golf while finding the sport boring as hell, you'll find that once you're about 10 articles in every subsequent article feels like a complete drag to write. This isn't a recipe for a successful affiliate website.
Think about it this way: to make an affiliate website work you'll have to spend a ton of time. Week after week, month after month. You'll be seriously putting your willpower to the test if your website's topic is of no interest to you at all.
Besides this, having an interest in a certain niche will often go hand in hand with some knowledge. Thanks to this knowledge you'll be able to writer better content which ranks higher and converts better.
Don't get me wrong: you don't need to have a PhD in your niche of choice. But you will need more knowledge than the average person, and some pre-existing interest goes a long way here.
Are there affiliate programs and do your potential visitors have enough purchasing power?
As soon as you've picked a niche which is of interest to you and has products linked to that niche, you'll have to check if there are any suitable affiliate programs.
If not, the niche is a no-go.
But even if you've identified a niche with one or more affiliate programs, it isn't always a good choice either.
Take for instance the videogame niche. Perhaps you're a gamer and yes, there are heaps of affiliate programs when it comes to videogames. However, within the affiliate marketing community videogames are infamous for being a terrible niche since the target audience of videogame websites (teenagers) have minimal purchasing power.
A videogame website can be highly lucrative, but only if it draws in millions of visitors and can make money through ads and direct deals with videogame publishers.
Besides, content for a videogame website can never be evergreen. There are constantly new videogames coming out which means that your content will quickly become outdated.
A good niche offers plenty of possibilities for content which will stand the test of time.
Check out the competition
Another important factor is competition. Certain niches are incredibly competitive, which means that the odds of breaking through as a fledgling affiliate marketer are slim to none. Examples of highly competitive niches are fitness and health, business software (like Shopify) and gambling.
With certain niches you'll see that the search results pages get dominated by massive, well-known websites which are often part of a media conglomerate.
You're going to have a rough time having any success in the health niche
How can you quickly figure out if a niche isn't too competitive? One way is to check the search results for keywords you're going after and see what sites tend to dominate page 1. Look at the quality of the websites. Are there smaller blogs among them which content you could replicate quite easily? Then this means the niche isn't overly competitive and you've got a decent shot at competing.
Pick a "broad" domain name
Here's one final piece of advice around your site's niche:
Always use a broadly applicable domain name.
Why? Well, at a certain point you might want to add a second or a third (sub-) niche to your website. If your domain name is too niche-specific, then this will be tricky.
For instance, if you use a domain name such as bestmotorcyclehelmet.com, you're going to have a hard time branching out into a topic such as motorcycle gloves. If you'd pick a domain name such as motorcycleheros.com instead, this will lead to many more content opportunities down the line.
A broad, brandable domain offers many more possibilities than a highly specific domain
Besides, a super specific domain name such as bestmotorcyclehelmet.com doesn't look professional. This will become a problem if you want to build links or launch a PR campaign.
Here I unfortunately also speak from experience. One of my affiliate websites has a way too specific, unprofessional domain name which is stunting its growth. At this point, the only options are to accept this or change the domain. The latter option is always a massive hassle which you should try to avoid at all costs.
Chapter 4: Building an affiliate marketing website
In this chapter we'll be talking about writing content for your affiliate website and how to build a website.
I'll explain my own approach when it comes to writing effective content which converts. And I'll be showing you which tools and platforms I use to build my affiliate websites.
Content: the heart of your affiliate website
Content is king.
Content is by far the most important component of your affiliate website. You need content to be found in Google and promote products to you visitors.
To understand how you can put together effective affiliate content, we'll be looking into the following concepts.
Copywriting
Copywriting refers to writing persuasive text which inspires people to take action. This can be purchasing a product, signing up for a newsletter, donating money or pushing a button. You can find copywriting on sales pages, advertisements, social media posts and – of course – on affiliate websites.
If your website is earning money through advertising, you don't need to persuade your visitors about anything. You only need offer them the information they are after and package this in a visually appealing way.
With affiliate marketing things are a bit different. You want people visiting your site to draw their wallet and buy something.
This is a lot easier once you understand the core principles of effective affiliate marketing.
Here are a few of these principles:
Focus on benefits over features
It isn't about you, it's all about the reader
Generate a sense of urgence
And here are a few tips that virtually any soul who publishes on the internet applies to enhance the readability of their content (once you know this, you'll start seeing this everywhere):
Use short sentences, short paragraphs, loads of white space and tons of sub-headings
Address a single person ("you" is the magic word)
Write in the active form
For more on copywriting, check out this article on the best copywriting resources.
Types of content
You can generate affiliate commissions with any kind of content, but some types are more effective than others.
Product roundups (best X for Y)
This is probably the easiest type of content to get started with if you're new to affiliate marketing. With this kind of content, you're comparing a bunch of products and write short reviews for every product.
As an affiliate marketer it's always best to own and test the products yourself. However, in practice this won't always be feasible.
So instead, you can rely on research through forums (like Reddit) and customer reviews.
This type of content usually consists of two distinct sections:
Short reviews of all products you recommend
A buyer's guide which further guides your visitors to the right product
An example of such an article on Affiliate24 is my best web hosting for affiliate marketing article.
Product reviews
With a product review you zoom in on one specific product. You describe the product, highlight the pros and cons, and try to explain as clearly as possible whether it's likely to fit your readers' needs.
Product reviews form a nice one-two with product roundups. Once you've tested and reviewed a specific product, you can link to it from the product roundup and the other way around. This simplifies picking a product for your readers and increases your conversions.
How-to guides
In a how-to guide you explain step-by-step how to do something. For instance, setting up a web shop.
These articles work best if you add tons of accompanying images.
Keywords research
Keyword research is a critical component when managing an affiliate website.
You can use an SEO tool like Afhrefs or Ubersuggest for this. These kinds of tools show you how much search volume a keyword gets, spits out related keywords, and gives you an idea about the estimated strength of the competition.
I used Ubersuggest to do keyword research for this article
Website design and technique
There are literally thousands of ways to build an affiliate website. Let me show you my preferred method.
Platform and theme
First, you'll have to pick a platform to build your site on. I recommend you use WordPress. About a third of the worldwide web runs on WordPress and this market share is increasing every year.
WordPress is easy to use for beginners (no technical knowledge required), is highly flexible (you can pretty put together any site you can imagine) and is totally free to use. It's by far the best platform for most websites.
When using WordPress, you'll need a theme. I recommend Kadence (there you have it, the very first affiliate link of this article!). Kadence is a premium (paid) theme, but also has a free version which handily outclasses 99% of all paid themes when it comes to functionality. I use Kadence for all my websites – affiliate or otherwise.
If you think Kadence is the way to go for you, then check out my affiliate website templates which have been build using Kadence. These are starter websites which will save you a ton of web development time and are the perfect starting point for any affiliate website out there.
Finally, you'll need several plugins to add certain functionality to your affiliate site which WordPress doesn't offer out of the box. To see which ones you need, check out my article on the best plugins for affiliate websites.
Web hosting
Next to a website platform your site will need hosting. Hosting is where websites live on the internet. It's where all your website's files (like imagery, text, and code) are stored.
It doesn't take more than 10 minutes to set up web hosting. And for new websites it doesn't have to cost more than 5 euros a month.
SiteGround is a great web host for new affiliate websites. With this hosting provider you can count on:
Great performance. Super important for affiliate websites, as fast websites lead to better conversions.
24/7 customer support. You can reach them within a few minutes through live chat any time of the day.
Beginner-friendly dashboard. Their backend is super easy to use, even if you've never managed a website before.
Chapter 5: Examples of successful affiliate websites
In this chapter I'll give you several examples of highly successful affiliate websites. Websites which in some cases earn hundreds of thousands of euros per month.
Check out these websites for inspiration when it comes to content writing, content types and web design.
Wirecutter (bought by New York times)
Wirecutter is the gold standard when it comes to affiliate marketing. The site was founded in 2011 and was sold to New York Times in 2016 for around $30 million.
Wirecutter is a site with multiple niches focusing products for the household, gadgets, and clothing.
The reason why Wirecutter managed to separate themselves from the pack is as follows: they thoroughly test all products they recommend. This helped to elevate them to a well-known brand with many recurring visitors.
NerdWallet
NerdWallet is one of the biggest personal finance websites in the world. They compare credit cards, mortgages, insurance and much more. The site has been around since 2009 and had a yearly revenue in 2017 of $100 million. Fun fact: the site got started on a $800 investment.
NerdWallet takes the number 1 spot for several extremely lucrative and highly coveted keywords, such as "best credit card".
Besides that, the site offers plenty of how-to guides which help visitors to get their personal finances in order. The site also has several handy tools and calculators.
One of the most important take-aways from NerdWallet is on how to generate trust on a website. This is especially important for sites dealing with sensitive topisc such as personal finance. NerdWallet's design is clean and minimalistic and the main website colors are blue and green. Two colors which evoke trust and fit finances like a glove.
ThisIsWhyImBroke
ThisIsWhyImbroke takes a fundamentally different approach than WireCutter and NerdWallet.
The site pays homage to the internet culture of the beginning of this century, when the internet was a lot more innocent and was used mostly as a frivolous pastime. Without social media and devoid of the much more commercial nature it now has.
ThisIsWhyImBroke is filled with bizarre, hilarious products like the NoPhoneAir, a product to cure your smartphone addiction. The site relies mainly on the affiliate programs of Amazon and Awin.
What you can learn from ThisIsWhyImBroke is this: things don't always have to be serious. If you manage to inject an affiliate site with a solid dose of humor that resonates with a certain audience, this can be hugely successful, too.
Chapter 6: 6 advanced affiliate marketing tips to earn 10k+ per month
You can earn €10.000 per month with affiliate marketing – or much more.
It's a long and challenging road to get to this point, but it's very much possible and thousands of people have already accomplished it.
In this final chapter I'll give you 6 tips you need to haul in the big bucks with affiliate marketing.
1. Keep an eye on your competition like a hawk
Affiliate marketing is highly competitive. The idea to "download money from the internet" is appealing to many people. Besides, the barriers to entry are tiny. All you need is a laptop, an internet connection, and a bit of time.
Therefore, you must be highly aware of your competition and stay one step ahead of them.
Once one of your articles hits the top 3 in Google and you start earning good money with it, you're in the spotlight. Competing websites will try to dethrone you.
This is why experienced affiliate marketers keep an eye on their competition and will try to stay one step ahead of them. For instance, by continuously improving and updating their content.
2. Everything stands and falls with your niche
It doesn't matter how good your website is. If your niche sucks, you'll never be able to earn good money with it.
The quality of your niche is determined by:
Search volume
Product prices and height of commissions
Strength of the competition
Purchasing power of your audience
If your niche is lacking in any of these, you'll hit an income ceiling sooner than you wish.
3. Scale your content
As soon as you've found a good niche, your site starts to rank in Google and you begin to earn money, it is often a smart move to scale your content production. Most successful affiliate marketers do this by hiring writers. Sometimes as full-time employees, other times as freelancers or through an agency.
4. Go multi-channel: build an email list and a YouTube channel
Once your site is picking up steam it can be smart to branch out into different channels. The most lucrative examples of this are building out an email list or starting a YouTube channel.
Many affiliate marketers use YouTube to redo their content in video form. By doing these, they reach loads of people who prefer to consume information through video instead of through text.
Building an email list is the most direct way to get in touch with your visitors and make sure they return to your website. This isn't only great for your site's visitor numbers, but you can also promote affiliate offers directly to them through email.
5. Get the right backlinks and turn into an authority website
Backlinks (other sites that are linking to your site) still play a critical role in Google's search algorithm. The best affiliate sites eventually become authorities within their niche. To speed up this process you'll need backlinks.
Although you'll gain these backlinks naturally over time, you can get there faster through an outreach campaign.
6. Take a course
Although you can learn a ton about affiliate marketing through blogs and YouTube channels, an affiliate marketing course will definitely speed up the process.
The best affiliate marketing courses explain the process step-by-step, through a clear structure while being sufficiently in-depth.
Here's the challenge: there are many of these courses out there. How do you separate the wheat from the chaff and pick a course that's actually useful?
To make things a bit easier for you, here are three of my personal favorite courses on affiliate marketing:
The Affiliate Lab
Authority Hacker
Income School
Conclusion
Earning passive income through affiliate marketing isn't some foolish pipe dream.
It is 100% achievable for anyone who is willing to put the time and effort.
The good news is that it's super easy to get started. Everything that comes with starting an affiliate website can be found in this guide.
Now over to you:
Which tips in this guide did you find most helpful? And are there still things that are not completely clear to you?
Leave a message below.
Frequently Asked Questions
How quickly can you start to earn money with affiliate marketing?
In theory as soon as you put your site live. In practice, however, it will take you a little longer. How quickly you can earn money with affiliate marketing depends on many things: how competitive is your website's niche, how much time do you put in and do you take the right approach?
Assuming you've picked a niche that's moderately competitive (i.e., you're mostly competing against smaller, blog-like sites rather than internet giants), you put in 10-15 hours a week, and you're following the right approach, you should usually be able to earn your first affiliate commissions within 3 months.

Can you make a full-time income from affiliate marketing?
Absolutely. In fact, there are people who earn tens of thousands or hundreds of thousands of euros per month with affiliate marketing. While most people won't reach such heights, many manage to earn a full-time income from affiliate marketing within a year or two.

How much does it cost to get started with affiliate marketing?
It doesn't have to be more than €100. Initially, all you need to pay for is web hosting and a domain name. In this guide, I recommend my favorite hosting provider for budding affiliate marketers.