How to Get a Logo for Your Affiliate Website
At a certain stage you'll probably want to add a custom logo to your affiliate site.
Although using the "Title" function in WordPress as a placeholder for your logo is fine at first, it has a finite shelf life. Once you start doing outreach or are getting significant traffic to your website, a proper logo goes a long way in inspiring trust, and with that improving conversions.
In this article I'll show you the 4 ways I use to get a logo for my own projects.
4 ways to get a logo for your affiliate website
Make it yourself from scratch
This is what I do for all of my new projects, bypassing the "using WordPress title functionality" stage. I'm by no means a great graphic designer, but I'm capable enough to put something together that doesn't look terrible.
My tool of choice is Adobe Illustrator, but a free tool like Canva or even Microsoft Powerpoint can work fine, too.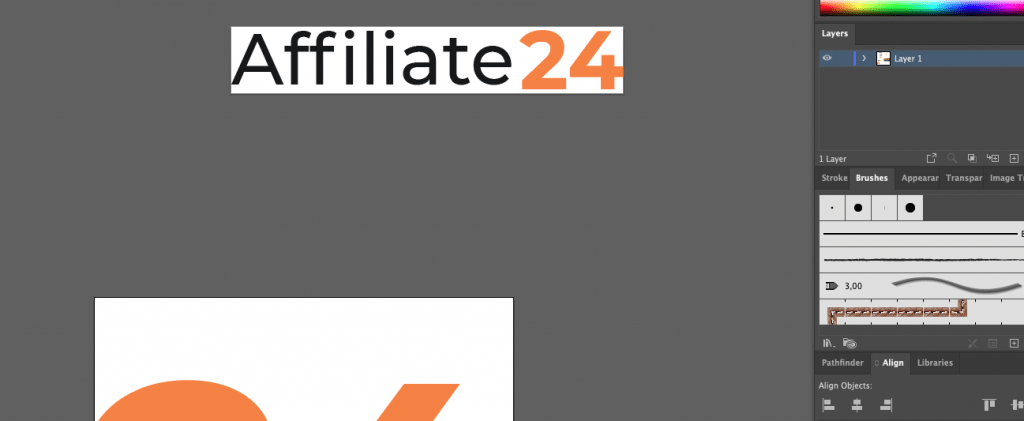 I recently made my own logo for Affiliate24 (a brand-new project). Here's the thought process that went into putting it together:
Pick a font I like (often Montserrat, which coincidentally is the same font I use for Affiliate24's headers)
For the font color pick one of the color shades I use for my typography for consistency
Make the "24" pop out by using one of my site's main colors
Make the "24" a little bigger than the rest of the text
That's it. The result is far from world-class quality obviously, but it totally does the job for the time being.
Pros
Cons
Use a logo maker
A logo maker like FreeLogoDesign is a pretty good option if you want a professionally designed logo without spending any money.
Here's how it works:
Put in the name of your website
Pick a category
Choose a logo icon of your choice and start adjusting things with a drag-and-drop editor
Once you're done, you get a 200 by 200 px file of your logo for free, or you can pay for a vector file of your logo. Keep in mind that if you use the free file on you website, you'll have to give credits to the tool.
Pros
Cons
Go to Fiverr
I recently used Fiverr to create a logo for one of my affiliate sites and I ended up being really pleased with the results.
What I like about Fiverr is that it's very much a "what you see is what you get" type of thing.
Their site makes it very easy to see in one glance what a designer has to offer, how much their services will cost you and how they have been rated by their customers.
Getting a logo from here can be really cheap. Though keep in mind: the listed price will get you just a PNG file of your logo. If you also want to have the source file, you'll end up paying twice the price give or take.
Pros
Cons
Start a 99Designs contest
This option right here is a great choice if you have a bit of money to spare and you don't exactly know what you're after.
Here's how it works in a nutshell: you pick a prize to offer to the winning designer (ranging from 269 euro's up to… well, as much as you want really), write a design brief, publish the design contest and wait for contestants to throw their hat in the ring.
The prize you offer determines the quantity and quality of the entries. Offer more money and you'll see more and better designs coming in, from better designers (designers are assigned a tier based on their experience and user feedback).
Once logo designs are starting to come in, you offer your feedback and then the designers will tweak the logo to your liking. Then, you shortlist a few of them and continue on to the next round. Here you get to do things like running a poll amongst your audience and give further feedback to the designers. Once done, you pick the winning design.
I ran one these contests once and ended up being extremely happy with the end result. Granted, I ended up spending around 300 euro's, but I thought it was totally worth it.
Pros
Cons
Conclusion
So there it is: 4 ways to get yourself a logo for your affiliate website. The best method for you will probably depend on the stage of your project. Obviously, you should not spend big bucks on a fancy logo for a new affiliate website which no one visits.
However, at some stage a unique, professionally designed logo absolutely brings a lot of value. Mainly when it comes to evoking trust, but another benefit is for yourself. For me at least it feels better working on a site that looks nice, which is for a bit part determined by the quality of the logo.